We visited my mom a few weeks ago. We usually go on a Sunday and she feeds us yummy food. Dessert was
peach cobbler. I'm more of a peach crisp kinda gal but of course I had to try it. So So Good. And then my mom shared with me the recipe..so so easy. Here it is:
1 29 oz. can of sliced peaches, drained
5 slices of white bread
11/2 cups of sugar
2 Tablespoons flour
1 egg, beaten
1 stick of margarine, melted
Preheat oven to 350. Place fruit in baking dish (8 x 8 inches or larger). Cut crust from bread and cut each slice into five strips. Place strips over the peaches. Mix sugar, flour, egg, margarine. Blend well and pour over bread strips. Bake 35 to 45 minutes or until golden brown.
Trust me. It sounds interesting, but it is delicious!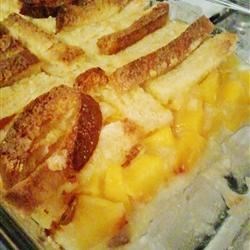 (allrecipes.com)